Account Alerts
More control, more options and more security. Our account alerts provide you with a robust offering that works within both online and mobile banking. Messages you choose to receive are instantly delivered, with the option of being scheduled, via email, text1, by push notifications on your smartphone with our SNB Business Mobile Banking app or within the online banking messaging center called "secure inbox."
Alert Categories Include Dozens of Options to Keep Close Tabs on Your Business Account:
Security Alerts: Get alerts if someone changes your information or is trying to get access to your online banking.
Balance Alerts: Low balance alerts can help you avoid overdrafts or maintain balances. High balance alerts can help you identify when you might want to transfer or invest money.
Transaction Alerts: Get alerts when deposits, checks or withdrawals post to your account.
Transfer Alerts: Get alerts when large incoming or outgoing transfers post to your account.
Loan Alerts: Get alerts when a payment is due, past due, has been paid or when any loan activity occurs. Know if you exceed your credit limit.
ATM/Debit Card Alerts: Get alerts when ATM/debit card transactions and changes occur.
Certificate Alerts: Get alerts when your certificate of deposit is about to mature so you can decide whether to renew or cash out. Also know when a new CD is funded.
Watch and Learn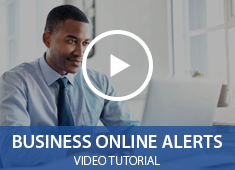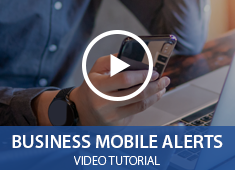 Setup Only Takes a Few Moments and It's Free2:
1Message and data rates may apply.
2Security National Bank does not charge a fee for Account Alerts, however message and data rates may apply. You must be signed up for Online Banking or Mobile Banking prior to attempting to set-up Account Alerts. Available Account Alerts are subject to change without notice.
Frequently Asked Questions
How do I set up the Alert service?
Log in to online banking using your PC or Tablet device.
Select Enroll in the Alerts area at the top of the page.
Under each Category, there are several Alerts to choose from.
Select the Alert and choose the method of delivery.
Click Save.
How do I view existing Alerts?
Log into online banking.
Select Manage Alerts on the homepage of online banking.
Click on the Alerts Options tab where categories are shown.
Under each Category, you will find Alert names. If there is a "1" next to the title, that signifies you are signed up for that Alert.
Click on the Alert to make any necessary changes, then select Save.
How do I make changes to an existing Alert?
Select Manage Alerts on the homepage of online banking.
Click on the Alerts Options tab, then select the Alert you wish to change.
Make any necessary changes to your alert and then select Save.
How do I delete an existing Alert?
Select Manage Alerts on the homepage of online banking.
Click on the Alerts Options tab, then select the Alert you wish to delete.
Uncheck the delivery method that was set.
A pop-up message will appear asking if you no longer wish to receive the alert.
Click "Yes," then click "Save" on the alert option.
Do I have to be enrolled for online banking to receive alerts?
You must be enrolled in online banking or mobile banking to set up alerts.
Can I use alerts to help guard against fraud?
Absolutely. We recommend that all customers set up Alerts to monitor account activity. When you activate Alerts, you'll know exactly what's happening with your money, and you can watch for suspicious activity in real-time.

Is there a fee to receive alerts?
No. This is a free service. However, note that text message and data fees may be charged by your service provider to receive text alerts.
Can I send alerts to more than one person?
Yes. When setting up alerts, in the Contact Options tab there is a link to add additional email addresses and text numbers.
How do I activate an email address or phone number to receive alerts?
When setting up alerts from the Contact Options tab, click "send activation code".
Type the code you receive into the activation box.
Can I choose not to receive alerts in the middle of the night?
Yes. Each alert you choose has a "do not disturb" option. Any alerts generated during that time period will be held until that period ends.
Can I review past alerts?
Yes. Log on to online banking and go to the Sent Alerts screen.
It displays a list of your alerts with the details.
You can mark as read or delete past alerts from here.
You can also view past alerts from our mobile banking app.
Can I take action from an alert?
Yes, you may take action directly from an alert within our SNB Mobile Banking app. The following alerts are actionable alerts:
Account Balance is above threshold.
Account Balance is below threshold.
Loan Payment is due.
Loan Payment is past due.
Can I set up alerts from the mobile banking app?
Yes. To set up push notifications through our Mobile Banking app, log on, select More from the main menu, then Alerts.
Turn on Push Notifications. Once turned on, you can set up account alerts, security alerts, and view your recent history of alerts sent.
What are the system requirements to receive alerts through Mobile Banking app?
Our Mobile Banking app supports mobile devices using operating system versions of Android 4.1 or Apple iOS 8 or newer.
Will my Alerts ever expire?
Alerts remain active as long as you have an active online or mobile banking account. Alerts do not expire unless your online or mobile banking account does. Your online banking and mobile banking app access expires after one year if you don't log into the account. If you contact us to make your online or mobile banking active again, you will need to set up new alerts.
How many Alerts am I allowed to sign up for?
There is no limit to the number of account alerts you can sign up for. Keep in mind that multiple alerts on specific accounts may become hard to manage and could trigger multiple notifications for each transaction.
I want the Alerts to go both by text and by email, can I do this?
You can checkmark more than one way to deliver within setup delivery.
I want an Alert to notify me at multiple email addresses, can I do this?
You can add more than one email address, however you must first go to the Contact Options to add your email addresses and activate them. Once they are activated, they will show up in the options within an alert setup. Simply checkmark the email addresses for delivery.
What if I change my phone number or my email address, will I still receive my Alerts?
You will need to update your Alerts with the proper alert information.
Does the Alert contain account information?
For security purposes, all account numbers in Alerts will display only the last four digits.
Why didn't I receive an alert message when I know I should have?
Alerts are delivered by our system when an event is triggered by specific account information you entered during your Alert setup. Either your transaction did not meet the specific event requirements, the phone number or email address entered was incorrect or there was an issue with the message delivery. For help troubleshooting message delivery issues, please contact us at (402) 344-7300 or toll-free at (855) 762-1964. Monday - Friday 8:30 AM to 5:30 PM, Saturday, 9:00 AM to 12:00 PM CT.